Sunset Cruise Charleston South Carolina
Om Sailing Charters is one of the few luxury yachts offering private sunset charters in Charleston, SC. At 43 feet long and 23 feet wide, the deck of Om is expansive and extremely stable—The boat remains flat as it cuts through the water on under sail. Om features "nets" between its two bows, offering guests the exhilarating experience of flying several feet above the water. This is always a fun place for people to ride, and one of the best ways to get a sense of how quickly the boat moves through the water.
Turn The Romance Up To Eleven
You've chartered a private yacht for a sunset cruise and you can't wait for that special someone to have their feet swept out from under them, eyes aglow as they step aboard the boat. But you're the type who likes to keep an extra card or two up your sleeve. If you want to take your romantic sunset cruise up a notch, then we've got some tips for you.
One of the best ways to say "I love you" is to let someone else sing it, you can play a pre-curated playlist of your favorite love songs over the onboard stereo system. Can you bottle romance? You tell us after uncorking a bottle of Prosecco as you sail out into the harbor (we can provide the champagne flutes). And your love will be eating from the palm of your hand, that is, if you bring snacks. Consider chocolate covered strawberries. 
What to Bring on a Sunset Cruise?
If you are at all worried about an unsettled tummy from being on the water, we highly recommend bringing a snack. An empty stomach can morph into an upset stomach. Consider bringing something filling such as flatbread and hummus. 
As the sun goes down, it can get chilly on the water. We recommend bringing something extra you can put on. That being said, Om offers a large covered cockpit where you comfortably sit in a protected area shielded from the wind while still watching the sparkling lights of the city drift by. 
What will happen on a Sunset Cruise
Upon arrival, our captains will greet you, introduce themselves, and welcome you aboard the vessel. You will be given a brief orientation of the boat. They will help you get seated comfortably aboard so you can relax while the boat prepares to depart from the dock. 
Our captains will pilot the boat and handle the sails, however as an honored guest, you are welcome to take the helm or assist with raising and trimming the sails. Upon leaving the marina, there are a variety of paths we might take through the harbor depending on the wind direction, current, and your interests. Sightseeing includes: USS Yorktown, a +800′ aircraft carrier from World War 2, the beautiful Arthur Ravenel Jr. Bridge, The Battery, and possibly even Fort Sumter, where the first shots of the Civil War were fired.
As we sail throughout Charleston Harbor, the sun will slowly sink to the horizon and the twilight sky will burst into surreal colors. As the colors fade, the stars, planets, and moon will make their first appearances in the night sky as we sail up the cooper river with the sparkling Ravenel Bridge in view.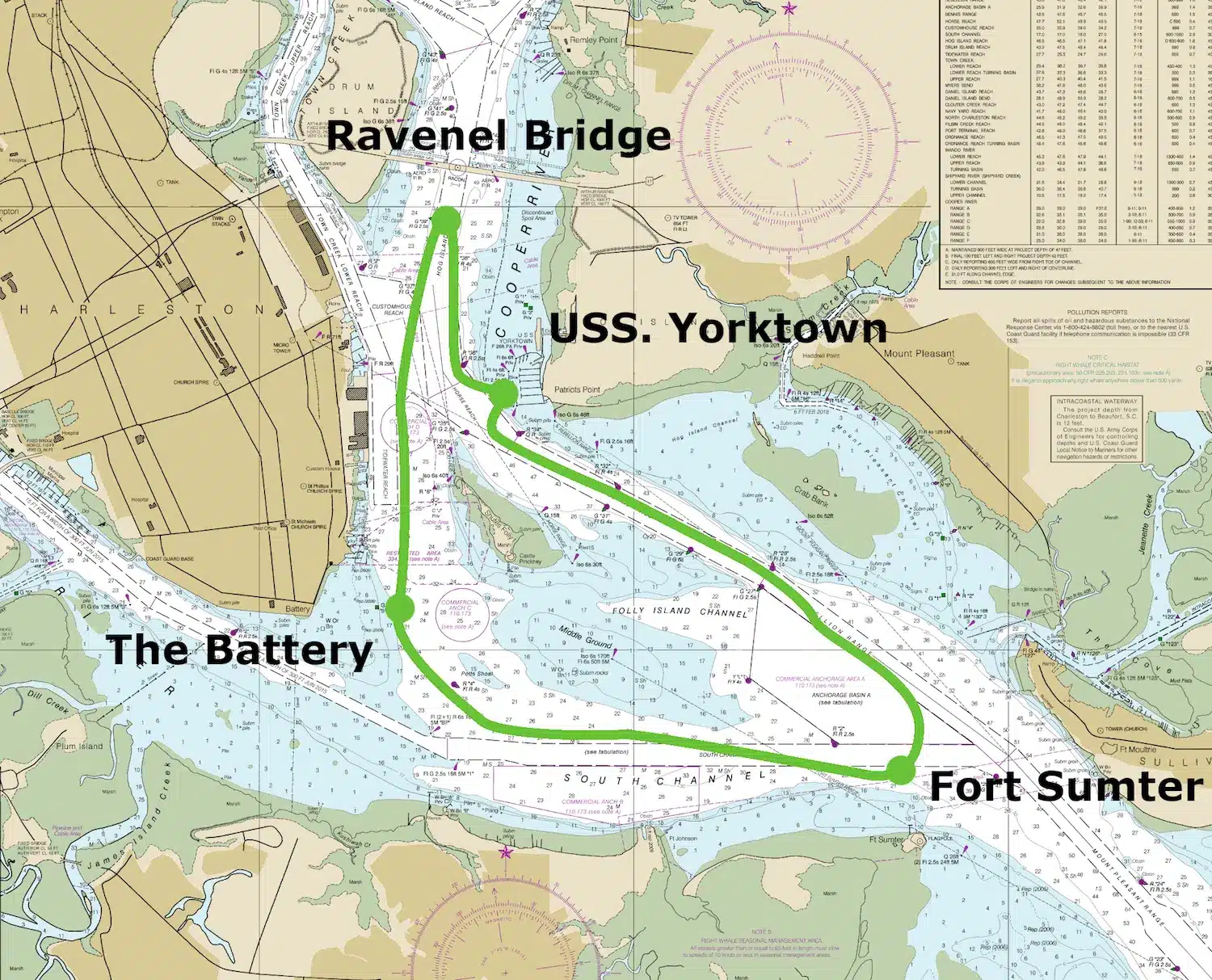 3 Hour Sunset Sail
Charleston Harbor Cruise
No cost to make a reservation

Cancel up to 72 hours in advance

BYOB

Catering Available

Be hands on, or laid back

Each Additional Hour $175
About Om Sailing Charters.
Om Sailing Charters is Charleston's premier yacht charter service. We offer the largest and most luxurious catamaran in Charleston Harbor. This is not just a sail on the harbor this is a glimpse of the sailing lifestyle. Professionally captained by a US Coast Guard licensed and rated Master, we provide our guests total confidence in their safety. Located less than five miles from the heart of Downtown Charleston, we invite you to read our many 5-star reviews on Trip Advisor. Contact us today to schedule your Sunset Cruise in Charleston South Carolina.