There's nothing like fresh air to pique the appetite—at the beach, a park, or even in your own backyard.  But perhaps more than anywhere else, fresh air is in abundance on the open ocean.  How, though, to balance your beverage and steady your spoon among the waves? A catamaran charter of course! Captained by the capable Banff Luther, Om Sailing Charters' 43-foot catamaran provides the perfect platform for a picnic of grand proportions.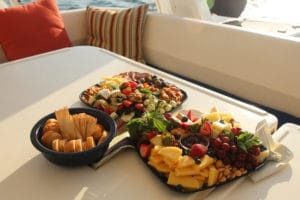 Unlike other sailing vessels, Om allows you to sail in smooth, stable comfort, with little risk of spilling your delicious drink or dish. This makes Om the perfect platform for your sailing picnic! So take these tips and pack a picnic to match the grandeur of the Charleston Harbor and quench your thirst for beauty and adventure.
All of the below can be bought ready-made at any number of local grocers (including Earth Fare, Whole Foods, and Harris Teeter).  Or, if you're feeling ambitious, try making some ahead at home (see recipes below). Grab a stack of cloth napkins, a handful of utensils, and some reusable plates and glasses to make the occasion at once more elegant and eco-friendly.
#1 Mediterreanean Sailing Picnic
Olives—oil-cured, Kalamata, or other mixed
Hummus and/or Baba Ganoush (Try rootshummus.com Made nearby in Asheville, North Carolina, and deemed "The Micro-Brew of Hummus"
Pita chips (Stacy's Naked are great)
Tabouli or Greek Salad*
Falafel with Tahini dressing*
Baklava
#2 Mexican Sailing Picnic
Guacamole*
Salsa*
Tortilla Chips
Black bean or veggie tacos, burritos or quesadillas
Citrus Sorbet
#3 Asian Take-Out Sailing Picnic
Steamed Edamame
Avocado, cucumber & carrot sushi
Vegetable Spring Rolls with dipping sauce
Seaweed salad
Mochi
Pair with lemonade or iced tea, or your favorite beer, wine or cocktail for a festive feast upon the high sea.
Recipes:
Easy Quinoa Tabouli
INGREDIENTS
1 cup quinoa, rinsed
1/2 teaspoon salt plus more to taste
2 tablespoons fresh lemon juice
1 garlic clove, minced
1/2 cup olive oil
Freshly ground black pepper
1 large cucumber cut into 1/4″ pieces
1 pint cherry tomatoes, halved
2/3 cup chopped flat-leaf parsley
1/2 cup chopped fresh mint
2 scallions, thinly sliced
PREPARATION
Bring quinoa, 1/2 teaspoon salt, and 1 1/4 cups water to a boil in a medium saucepan over high heat. Reduce heat to medium-low, cover, and simmer until quinoa is tender, about 10 minutes. Remove from heat and let stand, covered, for 5 minutes. Fluff with a fork.
Meanwhile, whisk lemon juice and garlic in a small bowl. Gradually whisk in olive oil. Season dressing to taste with salt and pepper.
Add cucumber, tomatoes, herbs, and scallions to bowl with cooled quinoa and dressing; toss to coat. Season to taste with salt and pepper. (Adapted from Epicurious.com)
Tahini Dressing
INGREDIENTS
1/3 cup tahini (sesame paste)
1/3 cup water
1/4 cup plus 1 tablespoon fresh lemon juice
2 garlic cloves, chopped
3/4 teaspoon salt
PREPARATION
Blend all ingredients in a blender until smooth. (Adapted from Epicurious.com)
Guacamole
INGREDIENTS
2 ripe avocados
1/2 teaspoon Kosher salt
1 Tbsp of fresh lime or lemon juice
2 Tbsp to 1/4 cup of minced red onion or thinly sliced green onion
1-2 fresh chiles, stems and seeds removed, minced
2 tablespoons cilantro (leaves and tender stems), finely chopped
1/2 ripe tomato, seeds and pulp removed, chopped
Serve with tortilla chips and/or crudité.
Method
Cut the avocados in half. Remove seed. Score the inside of the avocado with a blunt knife and scoop out the flesh with a spoon. Place in a bowl.
Using a fork, roughly mash the avocado. Sprinkle with salt and lime (or lemon) juice. Add the chopped onion, cilantro, and chiles. Place plastic wrap on the surface of the guacamole Refrigerate until ready to serve. Adapted from http://www.simplyrecipes.com
Fresh Salsa
INGREDIENTS
2-3 medium sized fresh tomatoes (from 1 lb to 1 1/2 lb), stems removed
1/2 red onion
2 serano chiles or 1 jalapeño chile (stems, ribs, seeds removed), less or more to taste
Juice of one lime
1/2 cup chopped cilantro
Salt and pepper to taste
Pinch of dried oregano (crumble in your fingers before adding), more to taste
Pinch of ground cumin, more to taste
Method
1 Start by roughly chopping the tomatoes, chiles, and onions. Be very careful while handling the chile peppers. Wash your hands thoroughly with soap and hot water after handling and avoid touching your eyes for several hours. Set aside some of the seeds from the peppers. If the salsa isn't hot enough, you can add a few for more heat.
2 Place all of the ingredients in a food processor. Pulse only a few times, just enough to finely dice the ingredients, not enough to purée. If you don't have a food processor, you can finely dice by hand.
3 Place in a serving bowl. Add salt and pepper to taste. If the chilies make the salsa too hot, add some more chopped tomato. If not hot enough, carefully add a few of the seeds from the chilies, or add a little more ground cumin.
Let sit for an hour for the flavors to combine.
Serve with chips, tortillas, tacos, burritos, tostadas, pinto or black beans. Adapted from: http://www.simplyrecipes.com