The Samana Cays lies in the far southern Bahamas and is a little known or visited place. In all of the cruising guides, charts and folk lore, its a place that only serious cruisers go that are completely self sufficient. The "Cut" or entrance to the anchorage is very tricky and hard to navigate, and should only be approached with perfect conditions. Perfect conditions meaning, clear sun high in the sky and calm seas. In the middle of winter those are not always the easiest to come by.
With all its warnings, and signs of danger, it has been my coveted goal of this cruising season. Its literally 60 miles from anywhere from which help may come and sticks out in the ocean like a misplaced and forgotten land. It is a land though surrounded by reef, and full of mystery. A place to go and become solitary.
Part of the issue of getting to Samana, are how the winds blow in the winter. Sailors call them "trade winds" and they constantly blow out of the east. Since a sailboat can not really sail any closer than 45-55 degree from the eye of the wind, obviously you are very limited in what direction to leave from. Abaco is really the only place of which you can use those "Trade Winds" to "sail" all the way there.
Looking for that perfect weather window took patience and more patience. The perfect "weather window" or scenario would be a wind that is 15-20 starting in the NW and clocking or shifting to the NE. And all of this has to take place over a 48 hour period. Many times this winter, while enjoying myself in Abaco, the weather would be in that direction, but either too much or too little, In 2 months this was the first opportunity that had arisen.
It was perfect, winds starting off at NW blowing a nice steady 10-15, clocking to the North, and within 16 hours of leaving it would be NE 15-20 dying off to 5 for the remainder of the trip. Total distance is 300 nautical miles which I can cover in 36-40 hours.
I wont bore you with the lovely details of offshore sailing solo. It was gorgeous out there, albeit a tad rougher than I would have liked. The winds gave Om a great push and we sailed along with a total average of 6.5 knots for 300 nautical miles. Quite a bit of it was 9-10 knots and I actually has to slow her down with reefing the sails. Only in the last 16 nautical miles did the engines come on to take me the rest of the way.
Some people run a marathon, I do offshore sails solo. Sleep deprivation is a bitch of an enemy. At no time can you really get more than 30-60 mins of sleep with all the motion, or an alarm from the radar/AIS going off. And when an alarm goes off you must wake immediately and see whats going on. It's amazing how much time I spent Attempting to get some sleep.
There is lots of traffic on the high seas in this area of the world. One ship that passed me in the night came as close as 200 feet. I kept maneuvering Om more and more away from him since I was not convinced we were not going to collide. The next ship that I felt was on a closing course I kindly asked them to change course since sailing vessels have the right away. Its not a fun feeling watching this dark mammoth of a vessel approaching and all you see are the silhouette and navigation lights.
Ok, so I did bore you with SOME of the details of offshore sailing. Lets fast forward to arriving in the early morning of Friday 38 hours after leaving Abaco.
The conditions were perfect! The sun was high in the sky, water clarity was crystal clear, waves were 1-2 feet and I could barely make out the channel. Lets clarify something about this "channel" in the "cut". Its not really a cut in the typical sense. Its just reef that is deep enough for you to go over top of it. The charts state you must enter, turn to port and then turn to starboard. Oh JOY.
The good news is that I made it in, reading the depth of the water by color and clinching my butt really tight! At one point (im going at a crawl here) I had to full reverse both engines as I was approaching some really shallow and gorgeous elk horn coral. (a sailor really does not want to be close enough to identify what type of coral it is mind you!). I backed her up 50 feet to make that sharp turn to Starboad (thats "right" for you land lubbers) and safely made it into the anchorage.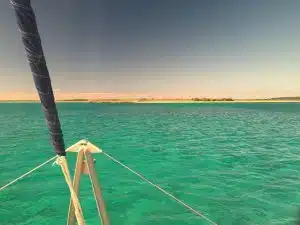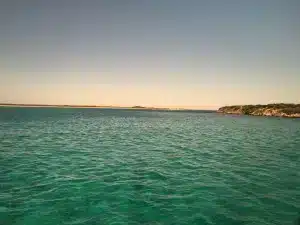 Anchor down, and I was in Samana. No other boats in sight, but an odd sight was to be found. There was a guy paddling around the shallows on a kayak with a long pole collecting conch. Not so sure about this whole situation, I went and anchored in the far eastern end.
Met up with the "one" local the next day after doing some spearfishing and exploring. Made me feel like we were supposed to meet up since we seem to be out here all "alone" together. He was cordial enough and I could tell he was glad to see me, greeting me like an old friend. "Its good to see you mon" We made some small talk and he quickly told me he had been out here since October (its Jan) and that he was hunting the bark that makes Compari.
At first I could not figure out if he was abandoned or not, asking him if he needed anything, his response was "not like that mon" Of course he wanted the two things most men would want, alcohol and or tobacco. What luck this guy has! Eyeing the spray bottle full of rum that I use to subdue fish, I told him no I did not. The last thing I wanted was to be out here in the middle of no where with a drunk! haha. Cant blame him though. Hell If I was alone for 3 months with just my dog Id want to get drunk too!
SO, instead I gave him the fish that I had just speared. Its wild how Karma works. I was the first person he had spoken to in over 6 weeks. The only other thing he asked was if I could get a message to the Acklins. That was easy enough, because even when I am this far out, I still have a connection with Single SIde Band Radio. Told him I would get the message passed along. His message?
"Can you call this number and ask them to pick me up the last week of March? I will have collected enough bark by then"
A total of 5 months with no way to get help and completely alone Gives a whole new meaning to being solitary. I thought about how much of a survivor this guy is and how crazy it was. After some contemplation though, he may be disconnected from society, but he is at one with nature. He is living as our ancestors did, living from the water and land.
The cay is gorgeous, right out of Cruising Worlds magazine, a place that I have dreamed to visit. And it is a dream. Right out of a story book. Long deserted beaches, no other foot prints in sight. Reefs with an abundance of fish, sharks, barracuda and living reef. Though I fear that even here signs of man kinds folly is evident. A lot of the reef has algae, or a type of growth on it, that is killing it. In places its coming back, but there are no, or very few sea urchins. Acidity levels and water temp rises are doing their damage.
For a cay that is out in the middle of "No Where" it is a busy little place. The weather is settled and first thing in the morning a 60 foot sport fisherman showed up trawling the waters off Columbus Bay. Still it felt a bit like an invasion of modern and ancient. At about the same time a Sailing Cat was sighted headed on a North Westerly course, close hauled to the wind, motor sailing for the north end of Long Island. Late in the evening a 123 foot mega yacht was sighted as they motored past to check out the anchorage. In today's world, its pretty hard to be alone.
The Cut/Channel into the anchorage had me a little nervous. I needed a better idea of how it is laid out and decided to mark the shallow reef heads with buoys. Where does one find Buoys on a deserted island? Guess I forgot to mention the trash that is layered on every beach down here. In 15 minutes time I found 6 buoys, and enough line to do the job. Its a sad sight, and one that cruisers of this era have to over look. Plastic is as present on the high seas as sand is on the beach. Its a true testament of how much we have Fucked up this planet.
My first thoughts of why I wanted to come out here, was to get away from it all. Disconnect and be away, basically to run away from something. After walking around on the Cay I have changed the way I think of that. People don't come out here to run away. People come out here to look for something. That can of course be literally, as a Bark Cutter, or in my space as figuratively. I've not run away, i've come back and found myself. I found out there I am perfectly happy being alone. I don't need anyone, but you know what? I want people in my life. Its just more fun.
On Monday I went and explored on land. What plant life that exists is very tough, and most of the beach area is covered in sea grass. The few shacks, dare I call them that, were filled with the remains of someones quest for a living. There was a comb to brush your hair, a mirror to see yourself with, foam to sleep on, carpet so that your tired feet would be on something besides sand, and an old shirt. Long forgotten or just placed there for when they return. They are little more than plywood shanties built on the ruins of older ruins of older ruins. For as simple as they are, they are effective.
Ingenuity is the mother of invention and these guys have it down to a science. Nothing is tossed aside that may not get used again. The shores are walked to see what plastic piece of treasure/trash has wash ashore. They have a pen to keep their conch, so they do not need to hunt everyday. There are fish traps that hopefully will be filled when they get back from their excursions into the Cay.
Walking through the sea grass, approaching an old ruin of a house I stumbled across a melon patch. Of all things that are on this barren landscape, these guys have water melons growing to supplement their food store. Nature has taken care of them, and they know to respect her and accept the gifts. Truly this is a place that you can live on the land, alas it is a very simple life. 6 months is a long time to be all to yourself. Part of you must be crazy, but is it really crazy to come back to the simple things of life? Get up, find food, cook, seek out more food, sleep. Life here is primal at its heart, yet driven by the need to make money. That's why they are here, its a way to make a living.
There was an overall feeling while I was on land that I should not be there. IT was not over powering, but it was there. Interesting to think of oneself as a foreigner for the first time. Its always been in my mind that I was part of the community here in the Bahamas. Sailing to a land makes you part of the landscape. Here on samana, I feel like a spoiled foreigner. And it did not feel right being on their Cay.
Probably one of the reasons I did not go to Marks house. There should be no invasion of privacy here between two men. Before I leave I hope to see him one more time and pass along that his message was received. Someone will be here in March to pick up him. Another more practical note is his dog and the dog tracks on land. Being out here solo, one can not take too many chances when it comes to getting hurt. Getting bitten by a dog would be the top priority of things I do NOT want to happen. Well lets be honest, that would be number 2 right after not being bitten by a shark.
What is it then, that I am seeking?.?. Obviously solitude is the first thing. I wanted to be alone with myself. No need of having self control to not look at the phone, texting, emailing and face-booking. None of that is possible. Emails are down to once or twice a day and they are pretty business oriented. The answer is not clear right now and there is no need to force it. Things come when they need to. At times before your ready, but you must accept them as they lay.
Tuesday after spending too many rolly nights at anchor I decided to head off for Mayguana.
It was also the first day I was able to dive the cut and mark it properly Still pretty scary but at least I understand it and have the main shallow reef heads marked with buoys. They were set with fishing line so they will not stick around. I want them to break free. There is no way I will be responsible for someone going in and running aground.
Being solo out on the reef poses some challenges. My favorite way to spear fish, which is the safest, is to be towed behind the dinghy with a tow rope. Allows for lots of territory to be covered and fast pick up once a fish is speared. After diving with my friends Sarah and Adam I learned a new trick. Dropping the pennant line from the dinghy down into the water slowing it a bit, I let the dinghy drift along with the wind. I stayed right beside it and just slowly checked out the area.
Its been interesting not seeing that many game fish or lobster. The feeling that this reef is getting pillaged by commercial fisherman is pretty strong. But I must admit, of the two times that I hunted on the reef, I came away with a really nice sized fish quickly. This dive was a beautiful grouper. Reef here has lots of structure and most of it is really cavernous. So many places for them to hide, not sure if I am just not seeing them or they are not there.  I am only covering a small area its hard to say.
Samana has a weird vibe which has built since arriving on Friday. For such a gorgeous island, the land wants to be left alone. And I am perfectly fine about leaving it alone. There is a reason no one lives out there permanently
Tuesday 12:30 the main was raised, motors stared, anchor hauled and I got underway. Just clear of the last buoy I turned off the motors. Putting water under the keel felt great. And with no intention of attempting to get anywhere on time. Just raising the sails and drifting along at 4 knots was pretty amazing.
The predicted winds did fill in around 16:30 and it became a scream of a sail. 12-15 knots of NE breeze right on the beam. IT was a dream sail screaming along at 7-8-9 knots, smooth seas, with a nice ocean roll, sun setting over a clear horizon and at the same moment the full moon rose. Not giving the world time to become dark, it took the suns place in the sky filling the world with light. You do not get many chances to do that in a life time. They are all magical.
Ten hours later tacking once brought me to the entrance of Abrahams Bay, Mayguana and reluctantly the motors were turned on, sails dropped and stowed . Motoring into the anchorage the with the moon lighting up the world as though it was a cloudy day. The charts for the area were correct and finding a clean sand bottom, the anchor was dropped in 15 feet of water behind the lee of Mayguana. It does not get better than that.
Cheers till the next edition on mayguana and beyond.