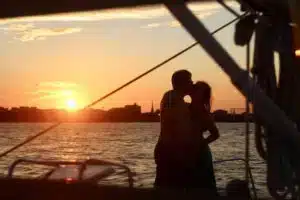 Looking for the Best Romantic Adventure in Charleston? What could be better than sailing on Charleston's beautiful Harbor? Just you and your sweetheart relaxing, sipping some wine and enjoying the exquisite beauty of each other and your love, all while being supported by the muse of mother nature.
At their very core, a romantic Charleston sailing adventure is the ideal setting for that perfect engagement, honeymoon, anniversary or just a dreamy escape with that someone special. Simply splash out into the harbor and let your whole being unwind as the wind, the water and the sunset connect you and your sweetheart to love.
Getting Engaged in Charleston? Pop the Question on a Sailboat!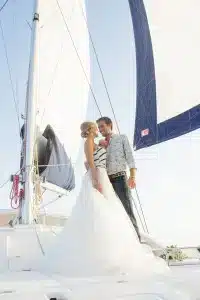 If it's time to get serious, the Best Romantic Adventure in Charleston is on the deck of a privately chartered sailboat. Golden sunsets dipping behind the Battery, dazzling moons rising over black waters, morning seabirds calling out their delight and the magic of the wind carrying you away; if your true love is adventurous there is nothing like the intimacy of a boat, the adventure of the sail and the thrill of romance in the great outdoors. When it's time to get on bended-knee, Om Sailing Charters has you covered. The captain will guide you in any detail and is happy to either give you privacy or secretly capture the moment with photos or a video for you and your family.
Honeymooning in Charleston? Increase the Romance with a Sailing Charter.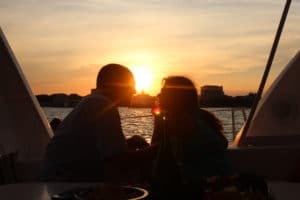 After the celebration of the wedding, the honeymoon is one of the best adventures for newlyweds. You have an excuse to leave it all behind. If you enjoy sunshine, sea, and romance, then chartering a private sailboat in Charleston is an obvious choice. You and your beloved can simply relax and loved-up the adventure without all the work. The elegantand spacious catamaran is hard to top for one of Charleston's most romantic adventures.
Anniversary in Charleston? Celebrate with a Romantic Excursion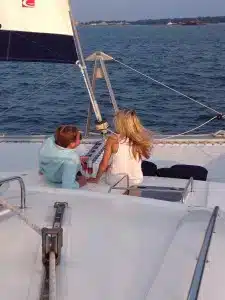 Marriage is a glorious thing, that includes both celebrating and learning together. Every year, you have an opportunity to honor and proclaim your love, so why not make it super special with a romantic Charleston sailing adventure? After all, a sense of adventure might be the secret ingredient that keeps the best relationships alive.
A Unique Date: Impress with Adventure and Romance.
It turns out, dates can get a lot more exciting than say, a dinner and a concert. If you want to make a great early impression and sweep your love interest off their feet (while making sure he/she likes adventure as much as you) then why not try a romantic Charleston sailing adventure? A Sunday afternoon sail is perfect for a first, second or third date, and if things progress a little further, a sunset charter might be the perfect excursion to heighten the romance.
Double Date: Romantic Sailing Adventure with Friends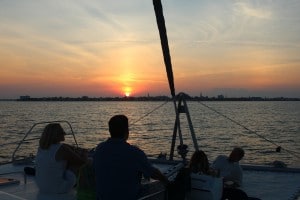 Double dates have been proven to help you fall deeper in love, create lasting friendships and even improve your health. For one of the best double date activities, consider a romantic Charleston sailing adventure with Om Sailing Charter. Whether you choose a late morning, mid-afternoon or sunset charter, bring good friends, drinks and food, and you are sure to have great stories to share into the future.
About Us:
If you are looking for fun things to do in Charleston, you've come to the right place! There is not another Charleston sailing charter that matches the size, beauty, comfort, and speed that OM has to offer. Click here to visit our homepage and learn more!